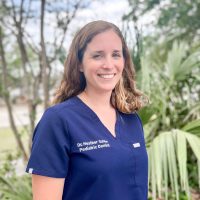 Dr. Heather Gabler
Dr. Heather Gabler was born and raised in Pittsburgh, PA. This is where she spent most of her childhood before moving to Milwaukee, WI to attend college. Her undergraduate studies consisted of a bachelor's degree in biomedical sciences from Marquette University. Upon graduating, she turned her focus toward the dental field – achieving her doctorate of dental medicine from Temple University School of Dentistry. Her residency was completed at Lutheran Medical Center in Princess Anne, MD.
Dr. Gabler moved to Jacksonville in 2014 and has enjoyed being able to fulfill her passion for working as a board-certified pediatric dentist. She enjoys the opportunity to get children interested in dentistry through fun and engaging experiences and inspire them to take good care of their smiles.
Outside of the office, Dr. Gabler can be found relaxing at the beach, cruising on a bike, or hitting the tennis court. Most of all, she enjoys spending time with her family; this includes her husband, Dr. Bryce Gabler, and their two children – Kelsey and Colin.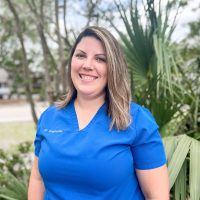 Dr. Stephanie Acevedo
Originally from San Juan, Puerto Rico, Dr. Stephanie Acevedo moved to South Florida with her family when she was just nine years old. With several dentists in the family, she spent a lot of her childhood in dental offices, learning about oral health and taking an early interest in the profession. By the time she reached college age, Dr. Acevedo had chosen her field of study. Upon graduating from the University of Florida with a bachelor's degree in health science in 2007, she began her doctorate studies at the University of Pennsylvania School of Dental Medicine. During her time as a student, she volunteered at various local clinics in the area and served as president of the school's Hispanic Dental Association. In 2011, Dr. Acevedo received her doctorate in dental medicine.
While initially focused on general dentistry, it wasn't until later on that Dr. Acevedo narrowed her area of practice to pediatrics. It was evident that she was interested in the dental field early on, and she soon realized that working with children was also an area of passion. As a pediatric dentist, Dr. Acevedo enjoys creating a warm, welcoming atmosphere for kids and providing them with the support they need to keep their smiles healthy.
In May 2011, Dr. Acevedo moved to the beautiful city of Jacksonville, FL, and now calls it home. She enjoys her time outside of work by reading a great book, making crafts, or taking a trip to Disney! Above all else, Dr. Acevedo loves spending time with her family; this includes her husband, their two daughters, and their dog, Bogey.